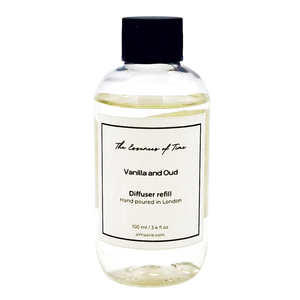 The Essences of Time
Vanilla and Oud Reed Diffuser Refill
Vanilla and Oud Diffuser Refill
This has an intense, velvety and woody fragrance that will transport you to the balmy evenings of stories from the One Thousand and One Nights. An opulent and nostalgic fragrance, the richness of which is balanced perfectly by the heart of lighter floral notes of Lavender, Geranium and Jasmine. 
Net volume - 100ml

Lasts upto 3 months.
How to Use and Safety
If using in a bottle that had the same fragrant from Almaarie, then just simply pour the liquid from the refill bottle into the jar and replace the reeds. If you are using our refill in a jar that had a different scent then please dispose of the remaining liquid into your waste bin. Do not pour the liquid into the sink or on the grass. Make sure you are wearing a pair of gloves when handling the liquid. Once empty, rinse the empty jar with warm soapy water.  When the jar is dry simply pour your Almaarie refill into the jar and insert the new reeds.
Please take care not to spill as this could damage your furniture surface. If the liquid spills on a surface wipe it clean with kitchen towel or a dry cloth straight away.
Tips On Getting The Most Out Of Your Diffuser
Use all of the reeds provided for stronger scent throw or if using in a medium to large room.
Turn the reeds daily for stronger scent throw.
Keep diffuser away from radiator or hot surfaces.
Add another layer or strength and ambiance with our Vanilla and Oud Candle.