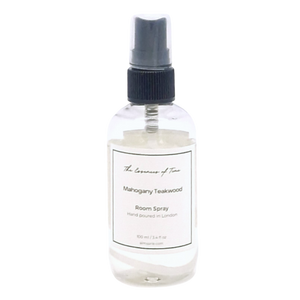 The Essences of Time
Mahogany Teakwood Room Spray
Mahogany Teakwood Room Spray 
Top note - Nutmeg, Bergamot, Lime, Lemon, Grapefruit and Mandarin
Middle note - Freesia, Geranium, Rose, Lily, Jasmin, Gardenia, Carnation, Peach, Coconut, Oats and Aniseed
Base note - Patchouli, Cedar, Sandal, Amber, Vanilla, Black Sugar, Tonka and Musk.
A dark and mysterious yet light room spray with an oriental accord.  The comforting woody aroma of rich Mahogany and Teakwood with hints of Citrus and the supporting base of Amber and Vanilla makes for a warm fragrance that will fill your room with feeling of comfort and coziness.


Net Volume: 100ml
Approximately 1000 spritz


How To Use
Simply spritz one of our scented room spray anywhere in your home, the car or even in the office when you need to create or enhance an ambiance in a hurry. Spray in the air or on your linens and curtains for a boost of freshness. Our room sprays are stronger than most other similar products, so a little goes a long way. 
Tips To Enhance Your Experience
Why not create a unique atmosphere by complementing the spray with one or more of our candles, creating a layered scented surrounding. Personalise it by adding candles with notes of floral or citrus, cooler or warmer notes. Create your own scented memory that is your own essence of time... You can find The Essences of Time collection of candles here.